Baramy Investments Ltd. is a privately owned real estate investment, development and management company headquartered in Edmonton, Alberta. Founded in 1954 by Larry and Leah Superstein, Baramy has been active in the development of commercial real estate throughout Alberta and Saskatchewan since its inception. Guided by our founder's principles and values, Baramy has grown through many diverse economic and real estate cycles by responding to the unique opportunities that shape our industry and continue to shape us. Family management not only gives Baramy the freedom to take a long term view of the market but also allows the organization to act quickly and decisively in our negotiations. Today, Baramy owns and manages over 1.4 million square feet of leased industrial, flex and retail properties along with over 300 acres of industrial, commercial and residential land.
Baramy's professional management team has considerable experience in all facets of management, leasing, development, and acquisition of commercial real estate.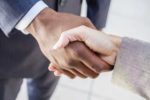 Vision Statement
Baramy is a relationship driven organization committed to maintaining the highest standard in the commercial industrial sector and being the preferred landlord in the markets we serve.